Essays and stories by or about ARTists
Please enjoy the following essays and poems, introduced below.
1.
GIRARD? GIRARD WHO?
2.
The Riddle of the Sphinx and Fowl Play in the Graphic
Art of Leonard Baskin
3. Selected Poems by David Chorlton of Phoenix, Arizona

Bill (William) Girard (Jr.) 1940 - 2011,
was a professor of art at the
Center for Creative Studies
, Detroit, MI, known now as the
College for Creative Studies.
"The burglar who broke into our house paid no attention at all to our collection of Girard paintings and sculpture. It was very depressing.
My naturopath subsequently instructed me to treat this and all life issues with the balm of gratitude. She would undoubtedly be pleased to know that the burglary has taught me to be grateful for boors.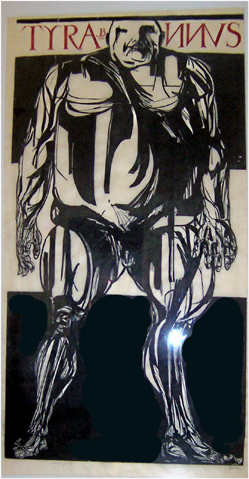 THE RIDDLE OF THE SPHINX AND FOWL PLAY
IN THE GRAPHIC ART OF LEONARD BASKIN
The following essay resulted from a series of discoveries and insights that originated with the purchase of a piece of art, a print, by Leonard Baskin: Tyrannus.
In 1969, Baskin was just the third artist, after Ben Shahn and George Grosz, to be awarded a Gold Medal by both the National Institute of Arts and Letters and the American Academy of Arts and Letters. According to the New York Times, Baskin was also the first American artist given the

honor of an exhibition by the
Albertina (collection) in Vienna, Austria.
The essay begins...
So there I was, telling the little reprobate who lives upstairs about the hidden images I had found in Leonard Baskin's TYRANNVS woodblock print.
"That ain't art," said the kid, "it's a raw shark."
Raw shark? Sushi?

"No."
You mean the image exudes the ruthless power and danger of a shark? (TYRANNVS does appear "in the raw.")
"No."
Turns out, the reprobate meant "Rorschach," not "raw shark."
David Chorlton is to vision as pigment is to paint. His appearance reminds me of a candlewick: scorched, desiccate, yet unconsumed. He speaks of his contemporaries with the thunderous affection of John the Baptist inveighing against
Herodias. Yet, this discomfiting personality possesses the lyric vision of an Isaiah. They are as manna for the hungry, but they will not feed the weak.